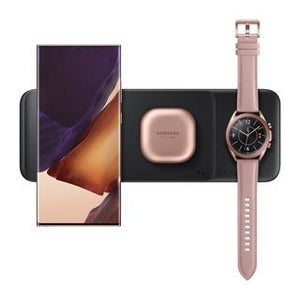 Samsung Wireless Charger Pad Trio is the ultimate charging solution for multiple qi enabled devices and a compatible Samsung Galaxy Watch. Eliminate multiple charging cords and get the power of Samsung.
With room to hold three devices at once - a smartwatch and two phones, or a smartwatch, earbuds, and phone - you can power up your ecosystem all at once with the Samsung Wireless Charger Pad Trio. So, when you are done for the day, just put your devices down in one place to be ready for tomorrow.
More Coils Make It Easier to Align
Six coils inside the Wireless Charger Trio makes it simple for you to put your device down and charge it up. No more messing with alignment — just set it on the pad to get a boost of power.
The Right Fit for Your Galaxy Watch
With the dedicated spot for Galaxy watches, you can keep your timepiece powered up to get you through your day. An interior magnet on the right side of the charger guides your watch into place to charge. And on the left you can charge your phone, Galaxy Buds series and more. *Supports charging for Galaxy Watch3, Active2, and Active smartwatches only.
Power Up with A Quickness
Get a fast battery boost with the Fast-Charging capability. You and your friends with compatible devices can get back to 100% even faster by harnessing extra watts of power. *Charging speeds may vary by device. Actual charging speed also vary depending on usage, charging conditions and other factors. *Compatible Apple devices with wireless charging feature support up to 7.5W fast charging. *PD 25W Travel Adapter included in box.